This magnificent image is the work of the brilliant Jenn from Centuries Sewing. She caught my middy enthusiasm (and perhaps had some sympathy for her landlocked midwestern friend!) and created a beautiful Victorian background for my latest creation.
Having hit on a perfect topic for my Memorial Day #MyrtleMondays blog post at elizabethcbunce.com, I decided to complicate—er, enhance the experience by making a perfect doll-sized version of the spectacular cover art for How to Get Away with Myrtle.
The middy worn by Myrtle on the cover was inspired by a real 1890s sailor suit:
… And so, in turn: the real 1890s piece became a book cover, then became a doll costume, 130 years later!
My doll sewing adventure began last winter, when my nieces requested custom wedding gowns for their new American Girl dolls. I quickly realized how much fun sewing these little outfits was—and better yet, what a perfect outlet it would be for my costuming impulses on Myrtle's behalf! I don't have a handy twelve-year-old to model any Victorian costumes, and making them for myself 1.) takes forever, and 2.) wouldn't be the sorts of things that Myrtle would wear. (Well, most of the time, anyway.)
I have two vintage 1990s Battat Our Generation dolls—one I found as a fit model at a local thrift store, and another I found on ebay after searching high and low for a model that looked like Myrtle! This doll with her reddish brown hair and straight-cut fringe was just perfect. This is the first complete outfit I've made for her (fortunately, she came with clothes, so she hasn't been sitting here like an urchin all this time!).
The pattern I used is Simplicity 1179, which is marketed as early 1900s costumes: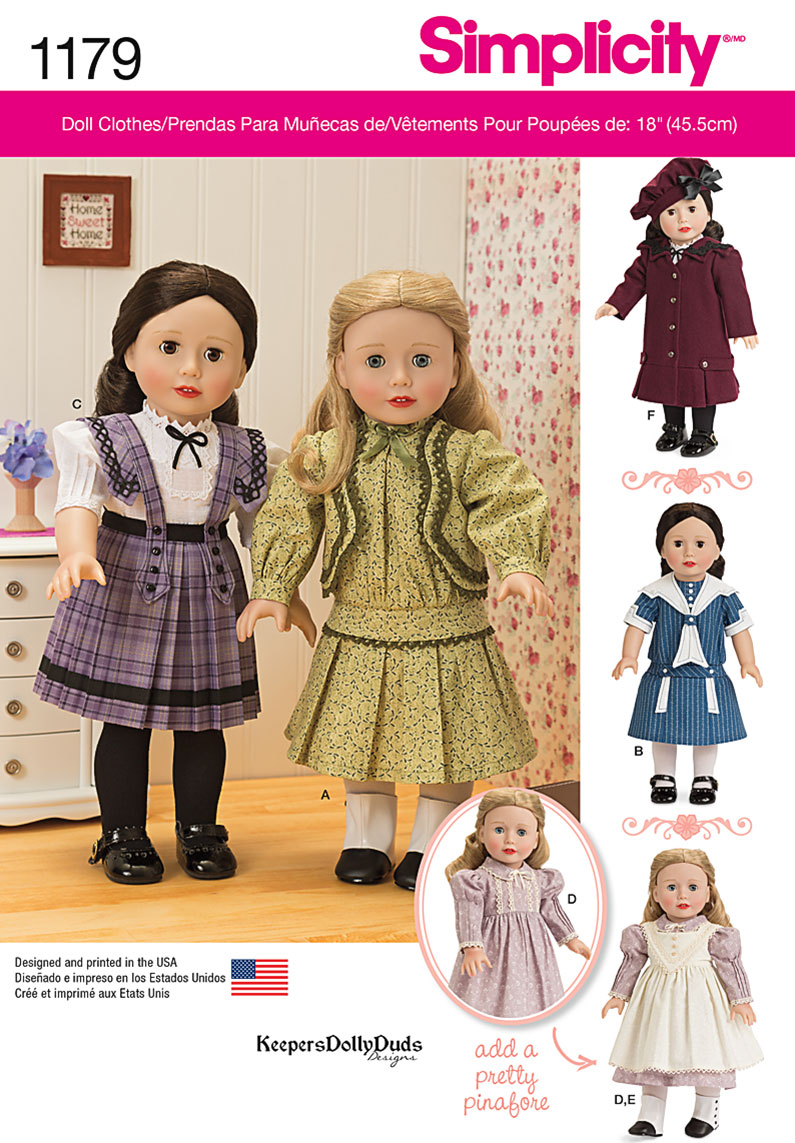 Children's fashion changed somewhat more slowly than adult clothing, though, so these styles are still very much appropriate for the 1890s.
I redrafted the collar pattern, to create the square shape-with-flippy-ties that is the centerpiece of Myrtle Hardcastle's Book 2 ensemble!
Everything came from my deep stash, from my heaps and heaps of linen to the serendipitous red-and-white striped ribbon that trims the collar. It came together beautifully—a lucky thing, considering the rather last-minute nature of this idea!
You can read my more thorough review of the construction process at PatternReview, or just enjoy all the photos below!
(Yes, she is standing in front of a space station corridor. It was the plainest backdrop I could find for Jenn's Photoshop work!)
I love the black tights and Wellies that are such a hallmark of this era: floofy white dresses and black stockings and boots! (I was a little worried that they'd show through her white linen skirt since I didn't have time to make her a petticoat–SCANDAL!!)
There are snaps hidden under those red buttons. Doesn't she have such a pretty hairstyle? Myrtle's hair would come undone in five minutes flat–which is precisely what this doll's does, too. (There was much touching-up during this photoshoot!)
I have another Myrtle-inspired doll ensemble coming soon. Stay tuned!