Summer 2018
This year, for my agent's annual costume party (yes, this is a thing! My job is AWESOME!), I was tasked with coming up with a musical-themed costume. CJ immediately reminded me that I've always wanted to do Mary Poppins, so I was off and running!
Everyone's favorite Time Lord wears several different costumes in the film, but I wanted to do her iconic blue "Travel" ensemble. The real costume sold at auction a few years ago:
The 1964 film is set in 1910, so I was looking for a mid-century interpretation of Edwardian clothes, not a period-accurate 1910 ensemble, which made things a bit simpler—no corsets, modern mundane patterns, etc. For the skirt I used the pattern from my old rope petticoat, OOP Butterick 3418:
And for the jacket, the current B6103. View B, with the small shawl collar and shoulder princess seams, has the perfect silhouette:
Although we all know that Mary's suit is blue, figuring out what blue was trickier! In the auction photo, above, it appears a dark greyish navy; but in the movie it looks much brighter. I tried for a balance of not too bright or too dark, and ended up with this glorious heavy blue cotton/silk faille suiting. It has fantastic weight, but the drape is a little too full/stiff for the skirt, although I made it work. The fabric is sold out as of writing this, but it's been restocked a couple of times since I ordered it (in April). It was lovely stuff to work with, making it a real pleasure to sew and wear.
For the piping, I used purchased grey bias tape, no piping cord, and sewed it to the side-front pieces, so that it would then naturally fall to the outside (vs standing up from the seams, or twisting toward the front). I had to tweak the width of the front skirt panel to ensure that the piping on the skirt and jacket met while wearing it. The other major change was adding the cutaway curve at the front hemline. It was a pretty straightforward project, but fitting princess seams is kind of a pain, and after multiple mockups of this jacket, the blouse (also princess seamed), and the Orville uniforms (so many princess seams!), I will be happy to never sew another one!
You can see a yellow lining or hem facing in the auction photos; the Butterick jacket pattern *is* lined, but bag lining and I never get along, so although I began with good intentions (and yellow lining) I ended up ripping mine out.
I felt like any Edwardian gentlewoman—Time Lord or no—would wear petticoats, so I added a petticoat lining with a ruffled hem to the skirt. I used some basic white broadcloth and a length of eyelet ruffle, then just attached everything at the waist before putting in the waistband. It's wonderful to swish about in, and it definitely gives the skirt some oomph. It doesn't actually need that much oomph, however, so I had to tone it down a bit, by folding the side seams inward and pressing them in place, so the folds would fall closer to the body, rather than spreading out like a big ol' bell.
The Blouse (before ironing!)
Under her blue jacket, Mary Poppins wears a striped shirtwaist-style blouse, with a full front-button band, and a ruffled collar and cuffs. The original piece has golden yellow stripes:
I made mine from a beautiful embroidered lawn I thought captured the spirit nicely:
Although this yellow striped gauze was another good contender.
I used the Liesl & Co Recital Shirt pattern to make it: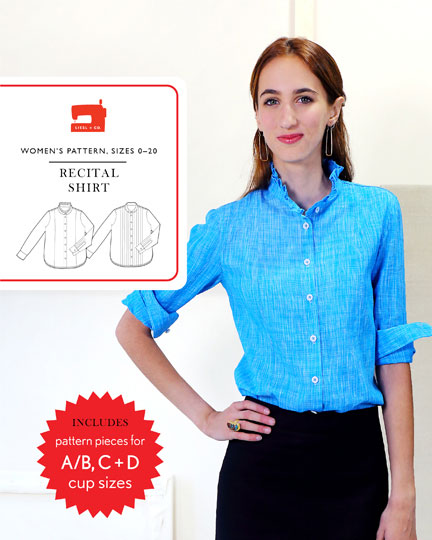 Practically perfect, right? I was hoping that the finished blouse would be wearable for non-costume events, although I haven't actually broken it out for mundane wear yet!
The fabric is very sheer, which meant that a "corset cover" was absolutely in order. I found a lace-trimmed tank on Amazon that looks very similar to Edwardian corset covers, and it finishes the look beautifully.
You can't see them very well, but I have awesome shoes, Easy Street Edison booties, in dark brown:
Mary Poppins wears black shoes, but I had these in my wardrobe already. (SO comfortable!)
Mary's red bow tie is very simple, but I just chanced to have a red grosgrain bow on hand (I found it in a box of cat toys…? Yeah.), and although it's not the exact style Mary wears, it works:
Of course, no Mary Poppins ensemble would be complete without a few more accessories. A black straw hat dressed up with flowers and cherries:
And her TARDIS, er, carpet bag! I've had this bag for aeons (I had it at my wedding; not IN the wedding, but on hand should I need anything. Like a floor lamp.)
This project was every bit as fun as it should have been! She's such a beloved character, it was neat to channel some of that affection for a day! At the agency retreat, a couple of chance words turned my little musical costume into a whole ensemble:
…And folks in San Diego's Gaslamp Quarter kept stopping me for pictures. And showing me their Mary Poppins tattoos. Ahem.
Now. If you're anything like the Gaslamp crowd, you may be wondering about her umbrella and scarf! I actually have a lacy scarf (and the lacy-scarf-knitter's permission to paint it), but that scarf and the umbrella both belong to a different costume–the black overcoat she wears when she arrives at the Banks home:
…And a full-length umbrella is awkward to travel with. We already had to take a shovel with us! I'm not ruling it out, however, for any local appearances, so stay tuned!