19 June, 2017
Gosh, it's been six months since I've posted here. Ridiculous! It's not because I haven't been busy—it's because this has been The Spring Of Many WIPs and Few Finishes (both sewing and writing), and because my last two old girls, sixteen-year-old twins Jade & Jasmine, require a lot of time and care (and, on occasion, Exceptional Forbearance). Some of you know that until Jade got sick a couple months ago, I was sending a new project through my weekly writers' group. Exciting!!
With CJ and the girls at the park for Father's Day.
Eventually, hopefully, there will be Quilt Updates, Cosplay Updates, and Book Updates (!)… but here, at last, are some finishes that are worth posting about.
I've been making popovers!
No, not these (because y'all know I don't cook):
These!
Isn't this cute? It's Butterick 5997/See & Sew 6270 (a rebranded, abridged release):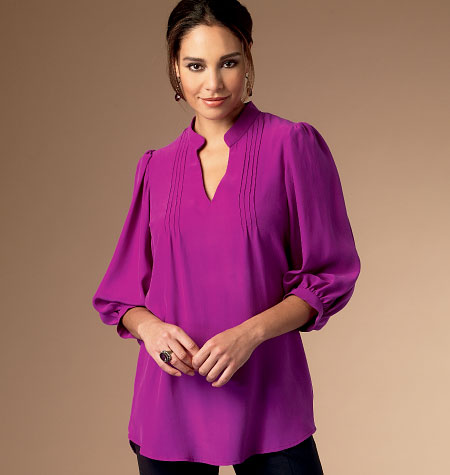 The pattern is meant for wovens, but I made this from some lovely lightweight cotton jersey. I made it straight out of the envelope as is—the only change I made was shortening it by three inches (I'm 5'4″), because when I tried on the muslin I got "bad nightshirt," not "cute popover top!" I love the interesting details–the band collar, the (faux!) roll-tab sleeves in my favorite 3/4 length (so flattering on my T. rex arms), and the pretty gathered shoulders that take the place of bust darts and give a lovely fit to pretty much any figure. (Stay tuned for how I know this!)
In fact, I was so smitten with that antique violet top, that I immediately made another! This time, I salvaged a length of green & navy homespun cotton from the costume closet (I've been wearing it as a wrap on Scottish days at Fair for aeons).
Et voila:
Wait! I think I might like this one even more than Version 1! This is the first modern/mundane woven top I've ever made myself, and I keep pulling it out of the closet—three times the first week. I think it's a winner.
I was already trying to decide just how many identical tops a woman can have in her wardrobe, when THIS appeared in my inbox, from FabricMart:
I might have waited a whole day before ordering that. Because I knew IMMEDIATELY that THIS had to be:
Happy birthday to my dear MIL, Judy! Doesn't that color look stunning on her?!
Because we can't get enough sunny happy yellow rayon:
Judy's 4″ taller than I am, so I left the length as is for her, and its perfect. See what I mean about looking great on different figure types? Short and curvy, tall and lean, and probably any other configuration out there.
This fabric was an absolute joy to work with. The color is rich and saturated, and the print is a really nice scale, breaking up the brightness a bit. I wasn't sure what to expect from "rayon broadcloth," but it turned out to be a little bit like rayon crepe—lightweight with an interesting, almost faintly ribbed texture. At first I thought it was going to read quite dressy, but when I washed it, it crinkled up beautifully! I was delighted with the texture change, but it may not be what you're expecting, so keep that in mind if you decide you need some of this fabulous fabric, which comes in several other colors/prints.
Lightweight rayons, like challis or jersey, can be a bit squidgy to cut out, so I was really extra super-duper careful with my tracing and marking. But it was exceptionally easy to sew, gliding through the machine and taking a beautiful press without obliterating the crinkles. I used a pretty fine needle, and all exposed seams were serged. There's a fair bit of hand sewing (a lot of facings), and the rayon loved it—the stitches just disappear into that beautiful texture.
I want like six hundred more yards of the stuff. Happily, I have just enough left for Popover #4 for myself. I mean, it will be #3 for me, but #4 total. Because I'm not crazy. Sheesh.
First, however, I'm taking a break to work on other things, like… sausage! Keep thinking sewing, folks; I mean a seam roll (which is not like a cinnamon roll), aka a sleeve sausage:
Now that I'm making more things like pants and blouses, I needed a long, narrow pressing surface. Modern padded seam rolls are really short—around 10″. I could have gone vintage (around 14″), but the folks at Pattern Review convinced me to make my own. So a couple early mornings when Jasmine couldn't sleep, I scrounged around in the sewing room for materials: some blue wool flannel scraps, and a coordinating quilting print. I lined the cotton side with wool batting to decrease lumpiness (the wool is really thickly fulled), and stuffed the whole thing with 2 years worth of serger trimmings! Commercial models are stuffed with sawdust, but I was too impatient to wait on the carpenter bees at work on our fence. (There was some discussion with Jenn about food processors + cedar pet bedding, but I went the free & easy route.)
I finished this yesterday and have only  had a chance to press one test seam, but so far so good! Looking forward to the next set of popover sleeves. For reference, I cut rectangles 18×5″, then rounded the ends off. It was an easy-peasy and supremely thrifty and practical project, great for 4 am sewing. That opening can be tricky to sew shut; my trick for that is to press the seam allowances well before stuffing, then use a ladder stitch to close up the seam. No curved needle necessary (but if you know how to use one, more power to you!). I made *very* tiny stitches, however, and knotted about every third one. Nice and sturdy. I kept stuffing until there was no room for even another molecule, closed up the last few stitches, then rolled it firmly between my hands to really firm up and smooth out the lumps.
So that's the latest from Elizabeth's kitchen! Er, dining room. Or really it's the sewing room; we should just stop pretending otherwise.