Boo! My favorite holiday has come and gone, but not without some making! Here are Finishes 21 and 22 in my Project 41 Challenge. (It's only been four months, and I'm more than halfway through!)
First up is that fun wallhanging, a piece of cross stitch I finished several years ago. It's been sitting in a drawer forever, because it unexpectedly turned out huge (you can't really tell from that photo, but it's sitting on my office chair and totally obscuring the serger behind it!), and I didn't want to go to the expense of framing it. But this summer while rooting through my stash, I stumbled upon that fun bat fabric, an anniversary gift from C.J. a couple of years ago (I love bats, so this wasn't weird. Or it might be weird, but I love bats.), and everything clicked into place!
First I finished the edges of the needlework with the Wave Stitch on my new Babylock serger, using Wooly Nylon in the loopers:
Then I sewed it directly to the top of the bat fabric. I then fused the bat-needlework sandwich to some thick double-sided craft interfacing backed with black cotton sateen (the lightweight stuff for quilting), and did another round of Wave around the whole perimeter. The stitch turned out beautifully, although I did snap a needle thread a couple of times. I swapped out the needle for a topstitch needle—MUCH better!—and managed to pick it up right where I'd left off. You can't even see the join anywhere (correcting a serger mistake can be tough, since the machine has already sliced off the fabric you were going to sew on!).
I just love the colors, the verse, and those jolly old witches:
I left a pretty wide border around the needlework, because I wasn't quite sure how to attach the stitching to the backer board. I thought about using buttons, and I found these that matched so perfectly: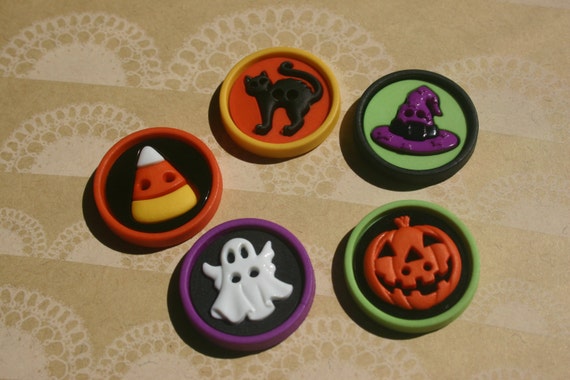 …But then I just ended up sewing the needlwork and bats together, so I didn't need them, and when I went to attach a couple just b/c… I decided I didn't like them. Ah, well. They'll find another use eventually, I'm sure!
***
Next up is a little quick weekend sewing. And by "quick" I mean, I was planning on working on it while answering the door for trick-or-treaters, but I was finished with it by noon. That quick. 😉
I made this tunic, McCall's 6796, from some luscious charcoal shimmer ponte I've been hording for a couple of years:
I'm not totally sold on it, but C.J. said it was awesome, so. Tess is divided.
I do really like the fancy little collar treatment:
…Even though I screwed it up:
And had to fix it by hand.
Incidentally, those are the same buttons I used on the rose cardi.
The fabric is super soft and feels really luxurious, so I'm sure I'll get some wear out of it, even if I'm not 100% thrilled.
I will have a final Teresa Wentzler October update soon (I made a fair amount of progress on my Castle Sampler this month!), too, along with some musings on the Project 41 Challenge, its effectiveness, and its relationship to my sewing & writing.
Enough making! If you'll excuse me, I have a NaNoWriMo quota to fill!