31 December, 2016
I MADE A QUILT!!!!!
This October, my mom turned 74. I made her a set of quilted placemats from an art deco-inspired jellyroll:
This was my third or fourth small quilting project, and I was slowly succumbing to what's clearly going to be a big obsession. Only midway through Mom's project, the ideas started brewing. Dad had a milestone birthday coming up in January—75. It was the perfect opportunity for a new project, the chance to stretch my new quilting wings and try The Real Thing. I'd make Dad a memory quilt!
One of the treasures in my stash came from Dad's travels, this batik sarong he brought me from Indonesia almost 20 years ago:
…And I was determined to use it as a centerpiece of the quilt.
At first I thought I'd do a traditional memory quilt, incorporating photos transferred onto fabric, but decided against it. It's hard to coordinate the collection of other people's photos, for one thing; and I couldn't find a style that really appealed to me for this occasion; plus it's fussy, potentially imperfect work—an additional challenging step in an already whole new skill set.
And also, I found enough memory-provoking quilting prints to make the photos unnecessary!
Thanks to the batik sarong, and the batik giraffe print from last year's quilted sofa caddy, I had a color scheme: gold, navy, cream, dark brown, dark red, along with a splash of aqua that cropped up in other fabrics.
I set off to hunt down quilting prints reminiscent of Dad's life and career as a journalist, college professor, and international educator. They make quilt prints for everything, after all!
Meanwhile, I needed a beginner-friendly pattern that would showcase the novelty fabrics. First I found this cheerful freebie, Cottage Mama's Charm Jelly Roll Friendship Quilt:
I loved the modern design, the way each block was like a frame, and the piano key border. …But my fabrics didn't like it as well. Digital mockups using some of my chosen fabrics weren't working. Then I stumbled onto the Market Street Quilt from Quilts by Emily, and was instantly smitten: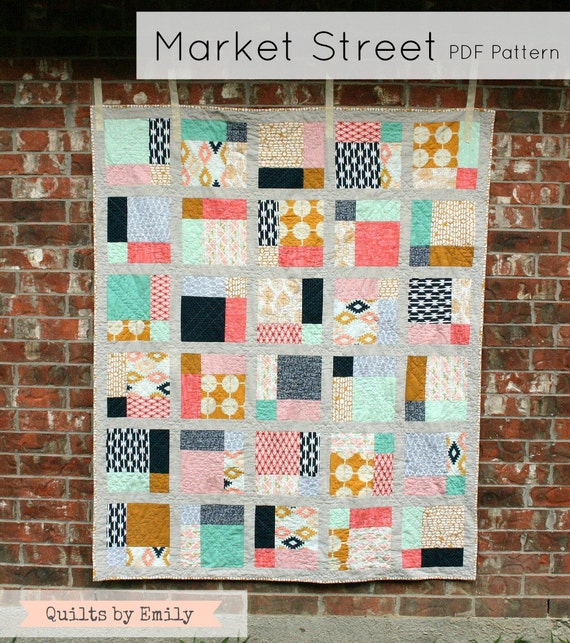 The digital pattern is available on etsy and Craftsy. Those wonderful blocks turned out to be created by a super-secret method (well, to me, anyway! Experienced quilters probably spotted it right away): great big Nine Patch blocks, assembled and then sliced apart again and rearranged:
Arranging those Nine Patch blocks was the biggest challenge! I had selected a lot of novelty prints, and making sure I had a good balance of color, scale, and busy-ness, so the prints complemented each other instead of competing… Well, OK, that was probably half the fun of the whole project.
Since the blocks were going to be broken apart and rearranged, I found that looking at the Nine Patches as a whole confused me. So I rigged up a "mask" to block off everything but the finished quadrant (EXTREMELY high tech; definitely don't attempt this without professional guidance–snork! It's a block of foam and a used Color Catcher sheet from pre-washing the batik.):
…And then I photographed everything. I could look at the blocks with my naked eye and go, "Eh. I dunno." But on my phone, it was immediately obvious whether I liked them or not. (You can see this block, top row center, below.)
After the design phase was complete, sewing the blocks, then the rows, then the whole quilt top together went remarkably swiftly! I started cutting the first week of November, and finished the quilt top on Thanksgiving morning. (This was during NaNoWriMo, by the way! The quilt was a nice distraction from the writing… and vice versa! When one project started to hurt my brain, I switched gears.)
After that, it was on to backing, batting, and basting! I used a pieced backing (because I didn't have enough of the blue ticking stripe) and Hobbs Heirloom 80/20 batting.
As a novice quilter, I wasn't bold or foolish enough to try free-motion quilting, but my walking foot and the serpentine stitch on my sewing machine came to my rescue. Quilting (as in the actual quilting, sewing the quilt sandwich together) feels very similar to making corsets to me–all those long straight lines, over and over. But a throw sized quilt is a lot harder to wrangle than a wee tiny corset! I may have an extension table on my wish list now.
The quilting thread (top) is a variegated cotton thread from Coats called Sandstone:
And it gives the whole quilt a wonderful allover texture similar in feel to the lovely meandering from the pattern sample:
Woo-hoo! I never, ever thought I would be interested in making a quilt—all that cutting, all those fussy tiny pieces to sew together, all that time… Well, who knew? It's actually a blast—like playing in a box of crayons made of fabric. Like being 7 years old, watching "Betty Lou's Magic Window" and making paper chains with construction paper, Dad's stapler, and magic markers. And it went so fast! It's pretty safe to say I'm hooked.
Fabrics Used
Although the following images were clearly grabbed from the Internet, I was lucky enough to find all but a couple of these fifteen prints at local brick & mortar quilt shops!
These two caught my eye right away, and set the theme for the whole design. I remember eagerly waiting for letters from Dad bearing that distinctive Par Avion stripe on the envelopes. At the very last minute, I had second thoughts about the striped binding, but I love how it turned out. It adds just a little extra pizazz, and the whole quilt now looks like international mail—just exactly like I hoped.
I loved the colors in this—the background is a sort of beige-aqua—but it had a surprise I didn't even discover until I was almost done with the very last rows of quilting. Hidden in tiny letters in one block, is the name of the city where we lived in Ecuador:
This is one of my favorite prints—the colors are just gorgeous, the rich golds shading into deep red, the accents of dark blue in the silhouettes of the baobab trees and elephants… beautiful. Dad has been to Africa many times, all over the continent, and many of the countries he's visited most often, like Uganda and Nigeria, are specifically marked on this print. It pretty much covered everything.
Dad's father was a Linotype operator, and this amazing print of letterpress tiles was a must-have! The blue version I used is very hard to find, but the black (neutral) one shown here is still readily available. They look just like the real thing… except for one pesky detail. They're backward. (The stamps should read in reverse as we look at them.)
Like I said, they make quilting prints for everything. Even the lyrics to your dad's favorite song!
This print is getting hard to find now; etsy might be your best bet (that's where I got mine last Christmas).
Dad's career in journalism included covering Washington, DC, during Watergate, for Voice of America. But the really perfect thing about this print? It has my birthday in it!
I don't have bolt-end info for the raccoon fabric; CJ found it in the shop where we bought the Expedition map fabric. But I snagged the image from this etsy listing. Our family surname is Coon (it's the C. in Elizabeth C. Bunce), so this was kind of a natural.
Dad's favorite city in the whole world is Rio de Janeiro, so I was thrilled to find this print featuring a poster (not postcards!) of Christ the Redeemer. Shown here is the "bright" colorway; a local quilt shop had the "vintage" color I wanted, which has more of the warm tones and the aqua. (But I'd have bought this one anyway if I had to!) I was really glad to find this in person, because it was hard for me to judge the scale (even with the ruler). I knew I'd be fussy cutting and wanted as many Rio repeats as I could get.
Nobody loves the medium of television more than my dad. From his early-adopter sci-fi fandom (The Twilight Zone and Star Trek were comfort TV in my house growing up!), to his career in broadcasting, and beyond, TV is a big part of my memories of Dad. And this print of the evolution of TV models (see the flat screens?!) had all the right colors. The background looks like a rich cream in the online images, but it's just barely off-white (I had to check the selvages to make sure it wasn't white!).
Oh! I nearly forgot!
After all those glorious novelty prints, one of my favorites is the sashing fabric. It was actually the very first fabric I bought, in the first shop I walked into. It reminds me of coffee bags, and ties together the world travel theme. I joked with the shopkeeper, "I'm looking for a beige… with some more beige!" But it's true! It's the most beautiful beige fabric ever. Although the photos make the Rustic Weave look creamier and pinker, and the Indonesian batik golder and brassier, they're actually a dead perfect match for each other. There are a couple dozen or so Rustic Weave shades, and I truly don't know which color this one is.
TLDR?
SQUEE!!! I made a quilt!!!!
…And I can't wait to make another.
Save
Save
Save
Save
Save
Save
Save
Save
Save
Save
Save
Save
Save
Save
Save
Save
Save
Save
Save
Save
Save
Save
Save
Save
Save
Save
Save
Save
Save
Save
Save
Save
Save
Save
Save
Save
Save